School Visits/Workshops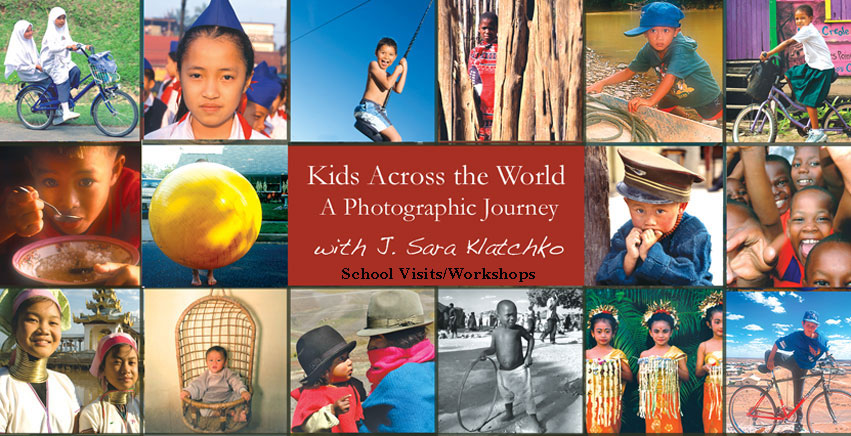 School Assembly
                    Celebrating the Diversity of the World's Children
                                and the Common Bonds They Share
A mesmerizing photo-journey that presents real-life photo-stories of real children – connected by themes such as play, work, food, going to school, family and shelter. Students (and teachers!) will be effortlessly drawn into different cultures, countries – and the lives of children from over forty countries.  An exciting interactive component (photo-detectives) will encourage students to make connections between their own lives and the lives of children they 'meet'. After the presentation, students will enjoy talking with J. Sara Klatchko, and learning more about the life and work of an award-winning globe-trotting photojournalist.
– Presentation includes a  display of almost 100 toys from across the world.
– Length of presentation: Approximately one hour with Q & A
– Grades: K – 8
– Different presentations for different age groups
– Includes a 20-page Teacher's Guide (pdf) and Handouts that connect the stories to
curriculum subject
Photography and Literacy Workshops
Because photographs are so specific, they are an extraordinary way to improve literacy skills, and to help students differentiate between assumption and fact. Using photographs encourages students to find specific words to describe a gesture, an expression, the landscape – to articulate exactly what they see and feel – and to create a story from the visual details. Writing from cross-cultural images connects creativity with critical thinking, visual literacy with story-telling – while increasing awareness of cultural similarities and differences – and helping to create a culture of empathy and global citizenry.
Length: From one hour to three days (two hours a day)
Grades: Second grade onwards
Workshops for Teachers
'Connecting the Cross-Cultural with the Cross-Curricular through Photography'
A unique visual literacy methodology shows educators how to use visuals to increase students' literacy skills, while connecting the cross-curricular with the cross-cultural. The method can be applied to any visual, but was created specifially for photographs with cross-cultural content. Participants learn how to 'read' a photograph, and how to better understand what they see. Teachers learn how to create specific questions for images that provide a guided analysis – helping their students search for visual clues that lead to different cultures, countries – and curriculum. Interactive methods teachers learn in this workshop will encourage students to be more observant, analytical – and empathetic.
      "The students were like little sponges soaking up a new concept, they learned
        how to observe, analyze, think and create in ways they had not done before…the impact
 … has changed the way these students learn." – Lynne Tilley, 5th grade teacher
Workshops from one hour (intensive overview) to three days (three hours per day).
Contact us for more information:
info (at) kidsacrosstheworld.com
jsklatchko (at) gmail.com