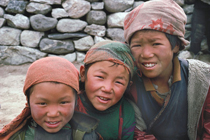 A Photograph is as Powerful
as the eye that beholds it.  Visual literacy is a tool that enables us to see deeply.  Young people who learn to analysis a photograph – to see the details that define the life of another child – have the ability to recognise the fundamental humanity that connect us all.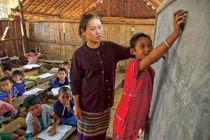 Look Close
Photographs encourage young people to look closely, to be observant – to find details that will tell them the story – and to help them discover their own story.


Retaining Knowledge
Photographs can establish a baseline of knowledge that children might already have about other places or cultures. They can provide a neutral starting point, a forum in which children can begin to share, discuss, and question their ideas/assumption in a collaborative way.

Finding the Story
from actual pieces of data – or 'evidence' –  is hugely rewarding. The pleasure of discovery is the driving force behind science, archeology, research –  and all manner of detective work.  Photo-Detectives don't get Fact Fatigue.

Assumption vrs Fact
The right questions encourage young people to look carefully and critically at various parts of the photo (the clothing, gesture, background, etc.), and to analyze how the details contribute to overall image, i.e., the story.

Connections
Encourage students to explore the links between their own lives and experiences and those of the children featured in each photograph. Many  questions will encourage students to compare the content for cultural/geographical similarities and differences.